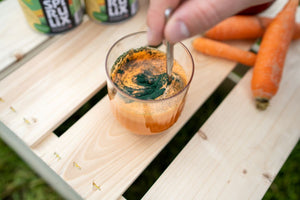 Starkes IMMUNSYSTEM
Spirulina ist eine ausgezeichnete Quelle für Proteine, Aminosäuren, Vitamine und Mineralien, die für die Funktion und Regeneration des Immunsystems entscheidend sind.
Mikrobiom & DARMGESUNDHEIT
Ballaststoffe und Präbiotika in der Spirulina können das Wachstum gesunder Darmbakterien fördern. Blähbauch adé, für eine gute Verdauung und gestärkte Darmflora.
Energie BOOST
Spirulina trägt mit ihrer hohen Dichte an Nährstoffen dazu bei, deine Akkus wieder voll aufzuladen und dir mehr Energie, Ausdauer und Leistung im Alltag zu verleihen.
Natürliche ENTGIFTUNG
Durch Nahrung, Luft oder Wasser werden unbewusst Schadstoffe wie Mikroplastik oder Pestizide aufgenommen. Spirulina besitzt die Fähigkeit Schadstoffe zu binden und aus dem Körper auszuleiten.
Finde deine Routine ab nur 0,83€ täglich!
Für Superfoodies
Obst und Gemüse genießt du am liebsten gemixt oder entsaftet? Dann ist das Spirulina Powder das richtige für dich. 1 Teelöffel täglich in deinem Fruchtsaft, Smoothie & Co mischen und von einer Extraportion Nährstoffe profitieren.
Powder entdecken
Für Drüberstreuer:innen
Spirulina Flakes über deine Lieblingsmahlzeit als Topping streuen. 1 Teelöffel am Salat, über Bowls, aufs Brot oder einfach pur mit einem Glas Wasser genießen. So einfach geht gute Ernährung.
Flakes entdecken
NULL RISIKO
Geld-zurück-Garantie
Wir wissen, dass du von Spirulix nur begeistert sein kannst. Damit auch du mit vollstem Vertrauen in unserem Online-Shop einkaufen kannst, bekommst du von uns dein Geld zurück, falls dir unsere Produkte nicht gefallen sollten.
jetzt testen
Für Snacker:innen
Der gesunde Snack mit Spirulina. Reich an Protein, Omega-3-Fettsäuren, Magnesium, Zink und Ballaststoffen.
Cracker entdecken
Für Frühstücker:innen
Für den guten Start in den Tag: mit Joghurt oder Milch genießen, mit frischem Obst verfeinern, als knuspriges Topping. Ein köstliches Frühstück mit Spirulina.
Knuspermüsli entdecken
Frequently asked questions about our Spirulina products
Spirulix is ​​a startup from Lower Austria. Using Spirulina, the planet's most nutrient dense ingredient, we conjure up snacks & other foods that are guaranteed to make you fall in love.
Of course in our shop - feel free to look around!

But you can also get your favorite seaweed snack in many shops or directly on our farm.

You can find an overview here:
Spirulina is probably the greatest algae in the world! Spirulina algae have been used as food for thousands of years. Especially in Africa, Mexico and other warm regions, algae have long been part of a good, balanced and sustainable diet.

Spirulina is a tiny alga that contains a large amount and range of minerals, vitamins, and essential amino & fatty acids.
Yes, all Spirulix products are 100% vegan and do not contain any animal products.
Of course you can! We produce 100% of the spirulina algae used for the SPIRULIX products ourselves on our algae farm in the small Sitzenberg-Reidling in Lower Austria.
All energy (electricity and heat) for our production is 100% from sustainable, renewable sources - and that from the immediate vicinity of the farm!
Let customers speak for us